Oh summer. It's been hot as hell which means..I don't want to cook.
One look at the oven and the 2000 degrees' Kelvin worth of heat it produces and my fingers immediately start twitching to push "Submit order" for some Domino's pizza.
Which, let's be honest. Is pizza ever really a bad thing?
Meet this salad.
(Did she just suggest to trade pizza for a salad?)
Yes. Yes I did.
Say hola to your new summer night dinner go-to.
…Ready in just under 30 minutes.
It's got cherry tomatoes, black beans, avocado, grilled chicken, red onions, and grilled corn. And charred jalapeños. They add an amazing amount of flavor to the dish.
Not to mention the holy matrimony that is cilantro and jalapenos in a dressing.
Okay amigos, let's begin.
I like to start by making the dressing first, that way it can chill in the fridge while I'm finishing the rest of the salad. Never made a dressing before? It's okay- I'll walk you through, step-by-step.
Ready?
1.) Combine all dressing ingredients into a blender and….pulse in blender until smooth.
That's it. Now let it sit covered in the fridge so it can get nice n' cold.
Alright, the next step is to pour your taco seasoning into a bowl or plate. You can use those little taco seasonings packets from the store, or make your own by mixing together the following: 1 tablespoon chili powder, 1 teaspoon salt, 1 teaspoon black pepper, 1 1/2 teaspoons ground cumin, 1/2 teaspoon paprika, and 1/4 teaspoon each of garlic powder, onion powder, crushed red pepper flakes, and dried oregano.
Now that you did that, add the cayenne pepper and garlic powder for some extra oomph. Feel free to adjust the amount of cayenne pepper to your liking. I found 1/4 teaspoon to be just perfect, but you may want more or less. Coat the chicken breasts in the seasoning, then grill or saute on medium heat until cooked through- about 4-5 minutes on each side or until a meat thermometer registers 165°F.
During this time, you can throw the corn and jalapeños over the grill, so they can work on a beautiful char too.
If you do decide to grill/saute the jalapeños (which is a wise choice, my friend), then my advice would be to wear gloves and try to avoid touching the peppers as much as possible while cutting them.
I know. You're probably rolling your eyes right now. I did when my mom warned me, too. They're jalapenos mom, I ain't no bitch. 
I rolled my eyes and went on my happy way slicin' and dicin' jalapenos. Three hours later, my whole hand burnt like the fiery wrath of hell. I couldn't even sleep. I just sat there with my hand submerged in a ziploc baggy of milk. So pathetic. 
Also, you know how everyone says that the seeds of the peppers are the hottest part? WRONG.
It's actually the flesh behind the seeds that is the hottest. So everything within proximity to that region will be super spicy, too. Capsaicin is what is responsible for the heat. 
Capsaicin is produced by some pepper plants to help deter away mammals and fungi. Birds don't have receptors for capsaicin, so they can eat these plants like candy, allowing seeds to disburse everywhere. 
But mammals do have receptors for capsaicin, which is why I was sitting in my bed at 2:00 am with my hand dunked in milk. 
Capsaicin binds to receptors on your skin that are the same receptors responsible for sensing damage from heat. So yes, for all your body knows, your hand really is on fire. 

It's time for the last step (and the most fun one): putting the salad together! Add the salad greens, sliced tomatoes, chopped avocados, jalapeños, crushed tortilla chips, and cilantro.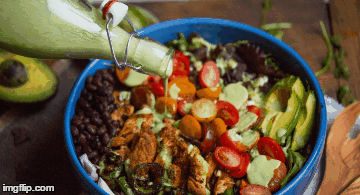 Drizzle dat' dressing over your salad, and enjoy!
| | |
| --- | --- |
| | |
Add dressing ingredients into a blender and pulse until smooth. Place dressing in refrigerator, covered, to chill while you are finishing the salad.

Combine the taco seasoning, cayenne pepper, and garlic powder in a bowl. Coat chicken breasts in this mixture to season. Grill or sauté the chicken on medium heat, for about 4-5 minutes on each side, or until a meat thermometer registers 165° F. Chop into pieces or slice into strips.

Toss together the salad greens, black beans, red onion, avocado, tomatoes, chicken, and, optionally, the tortilla chips, grilled corn, and grilled jalapeños. Drizzle with dressing, and enjoy!
Yum